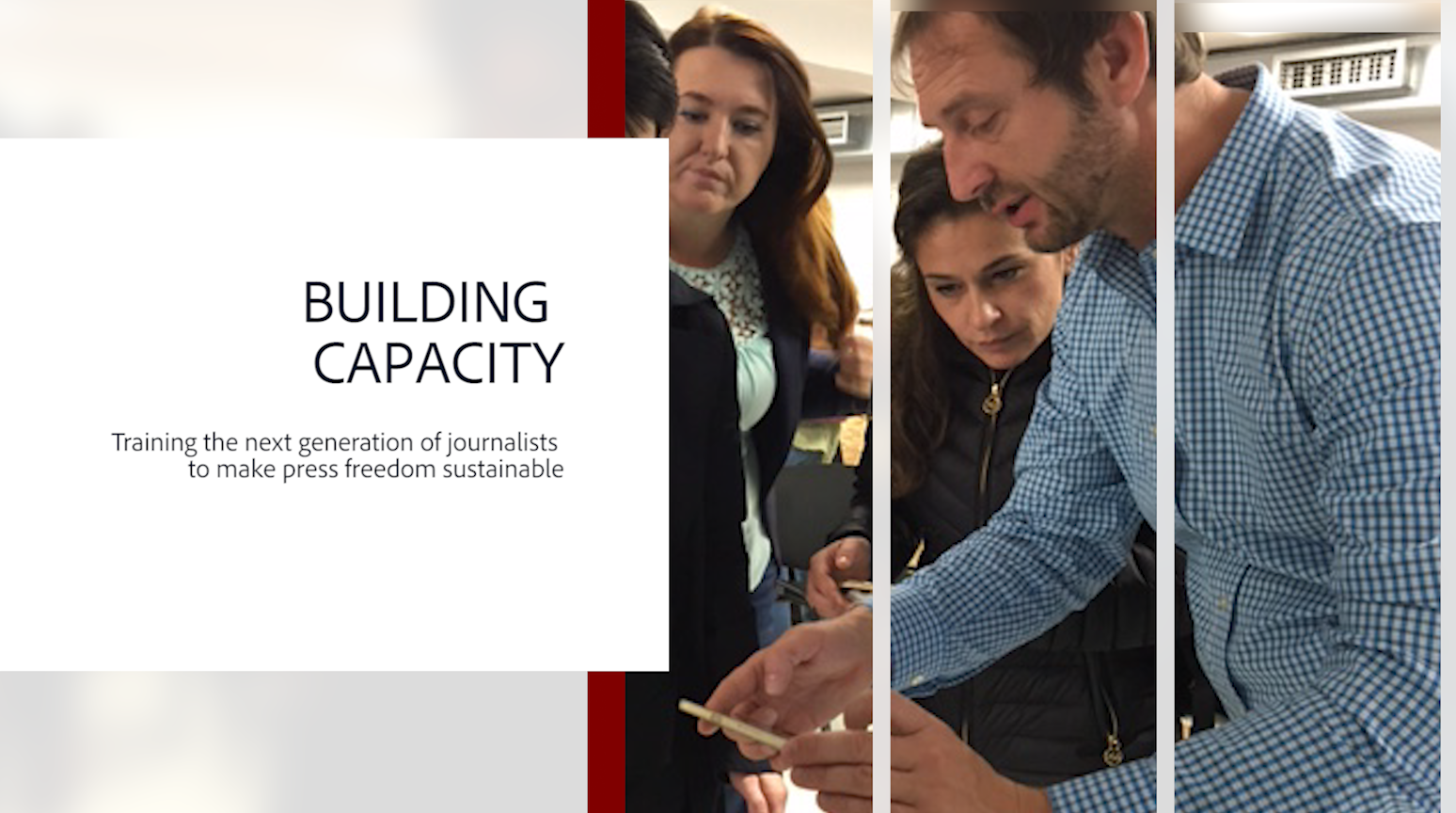 To foster a sustainable free press in the regions in which we work, the Agency regularly provides training from mobile TV production to sales and management to health journalism to media professionals around the world.
In 2017, we trained nearly 1,000 media professionals in more than 35 workshops.
The unit brought in well over a million dollars to help the Agency fulfill its mission in 2017. The funding included support for anti-narcotics reporting in Afghanistan, health reporting in the Democratic Republic of Congo, broadcasting to the Central African Republic in Sango, and programming to Angola in Portuguese. The unit also focused heavily on no-cost partnerships, signing agreements that supported English learning (with the University of Oregon) and the Boko Haram documentary (with Creative Associates). 
Digital Reporting Training in Dhaka, Bangladesh
A workshop entitled "Video Journalism in the Digital Age: New Tools and Techniques" was conducted over two days in September 2017 for 30 print, radio, and television journalists from across Bangladesh. Coursework covered the various types of social video and relayed best practices. The training took place at the Edward M. Kennedy Center in Dhaka. 
Communications Planning Training in Laos
VOA Lao Service's Saychareunsouk Pathammavong joined a US Army Corps of Engineers officer to train on communications planning: how to develop key messages and talking points and how to deliver those messages, applying the Empathetic Response model to communicate in low-trust, high concern situations. Fifty participants included personnel from various Laotian government agencies, as well as journalists from key media outlets. 
Digital and Physical Security Training for Latin American Journalists
Journalists from Venezuela, Argentina, Colombia, Mexico, and other Latin American countries participated in a three-day workshop that focused on security training, including first aid and digital protection. The workshop took place in Miami in August 2017. The organization Global Journalist Security conducted the training on how to react to hostile mobs, reduce risk, improve journalists' own situational awareness and handle first aid in case of accidents. BBG technician Borana 'Bo' Kostro also worked with the trainees on ways to protect their digital assets. 
Mobile Video Journalism Training for the Balkans
The Balkans Investigative Reporting Network (BIRN) and BBG held a three-day workshop on Mobile Video Journalism for 30 Bosnian and Serbian journalists in Sarajevo, Bosnia and Herzegovina, in September. Funded by the U.S. State Department, the workshop was conducted by BBG's Inna Dubinsky and VOA Eurasia Division's Alen Mlatisuma and Ajdin Muratovic. VOA Director Amanda Bennett talked to the training participants about ethical and credible reporting. The workshop and planned post-training journalism projects aimed to provide a wider platform for investigative reports and entrepreneurial stories, as well as bolster young journalists by supporting them through exposure to VOA. VOA will be airing the stories that BIRN journalists fully produced using only mobile devices. 
Combating Narcotics through Media Training for Afghanistan Journalists
Business Development organized an opportunity for the VOA Afghan Service to train 15 VOA stringers and journalists from Pazhwok Afghan News, Tolo TV, RTA, Kilid Radio, Shamshad TV and TV Channel 1. The focus was "Combating Narcotics Through Media." The training was held in New Delhi, India, in September. Training was funded by the US Bureau of International Narcotics and Law Enforcement Affairs. Some of their personnel joined BBG's Paul Marszalek and VOA Antinarcotics Project Coordinator Rahimgul Sarwan as trainers. 
A town hall on the same subject was held in Jalabad.
Digital Archiving and Media Asset Management Training in Kuwait
In May, two BBG experts trained officials with the Kuwait Ministry of Information on digital archiving and media asset management, focused on how to migrate content and digital technologies. Based on experience using Dalet Plus Production and Dalet Plus Archive, TSI Digital Media Division director Michael Hunt and VOA Media Asset Manager Pam Commerford presented best practices on preparing physical collections, inventory and assessment; the importance of linking metadata to media assets; the technical architecture of media asset management; preparing staff to collect information; and other topics. 
These trainings were made possible mostly with resources from the BBG, however, other agencies, including the Departments of Defense and State, funded training on particular topics.