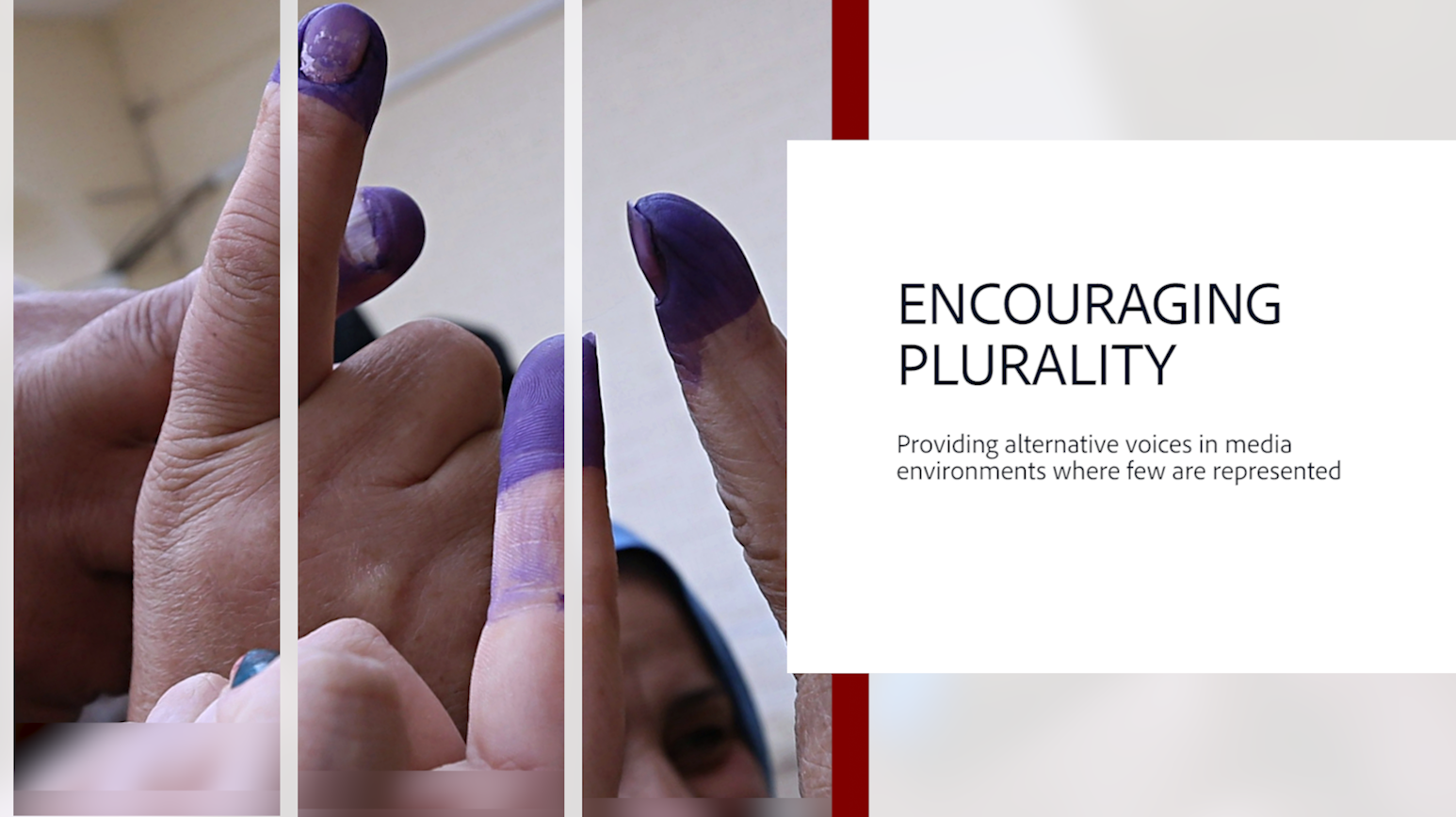 In some media environments, media is controlled or owned by the government, and alternative voices are not allowed. This can be achieved through censorship, self-censorship, restrictive media laws, polarization, intimidation of journalists and more. This lack of plurality is a major threat to the ability of citizens to make decisions that affect their lives, act conscientiously and govern themselves.
BBG supports these media markets by providing a platform and space for multiple voices to be heard. Whether is it providing a platform for an alternative viewpoint, or supporting and encouraging dialogue, BBG networks are there to ensure that the people are represented and that they have access to all the information they need.
Russia
Current Time, the 24/7 Russian language digital TV network led by RFE/RL in cooperation with VOA, offers audiences several programs, including Unknown Russia, Person on the Map, and its popular social media videos, which focus on the untold lives of Russian citizens who are not frequently in the spotlight.
Current Time's editorial mission – both on TV and online –is to provide storytelling that can unite a geographically and demographically diverse audience around a single topic, which has proven itself particularly effective with relation to social issues and the lack of official response to the needs of the public.
For example, Current Time's story about Rusinovo, the so-called city of the blind in Russia, drew broad attention across the region – in addition to many media pickups of the story, the piece prompted a Russian charity raise more than 1.5 million rubles ($26,000) to help a blind man featured in the report find a new place to live.
In May 2017, Current Time launched a documentary film platform, Realnoye Kino ("Real Cinema"), which, by screening 100 select documentaries annually, expands Russian-speaking audiences' view of the world. The films, which cover a broad range of subjects and approaches, are, often for political reasons, not otherwise available in Russia.
RFE/RL runs several regional websites focused on areas within the Russian Federation, in an effort to report on the whole of the country, reduce isolationism, and provide remote areas with access to alternative information and diverse opinion. Within this regional reporting, RFE/RL models professional, independent reporting in an effort to promote the role of a robust media, and aims to make media more of a player by providing a platform for civic engagement. Websites include Idel.Realii, oriented toward the Tatarstan and Bashkortostan areas, and Kavkaz.Reallii, which targets the north Caucasus region. In November 2017 RFE/RL's Russian Service launched Sibir.Realii, a regional news initiative focused on local life, covering social, economic, and cultural developments in 22 cities throughout the Siberian territory. Siberia, larger than the European continent, accounts for 75 percent of the territory of the Russian Federation and around 20 percent of the country's population.
Eurasia
Affiliate Networks Lean on VOA, Influencing Local Coverage
VOA Eurasia Division Services' content was republished regularly by major local media outlets in the region, impacting and frequently driving the local news agenda and responding to falsehoods and disinformation. In Ukraine, VOA content was republished more than 4,000 times in 2017. VOA Serbian, VOA Georgian and VOA Albanian also had significant impact on the local media scene.  In Montenegro, VOA dominated the news cycle with national TV and online coverage providing fact-based reports, expert perspectives and cost-benefit analysis of the country's membership in NATO amid strong opposition coming from the Russian disinformation apparatus. On September 25, 2017, the president of Montenegro, NATO's newest member, awarded his nation's premier honor, the National Award of Recognition, to the Voice of America for its contribution to free press in Montenegro.
Crimea Realities
RFE/RL provides a lifeline to critical news and information for illegally annexed-Crimea via multiple platforms, with the aim of ensuring that citizens of the peninsula are able to access news and information that is not controlled by the Kremlin.  On September 4, the RFE/RL Ukrainian Service's Krym.Realii project launched a 24/7 FM radio broadcast stream to northern and eastern parts of Crimea, which includes Ukrainian- and Russian-language content from the Ukrainian Service, RFE/RL's Russian Service, and Current Time, as well as joint programs with Hromadske Radio. Partnering with RFE/RL on the FM stream is Radio of Crimean Communities, which received a license from Ukraine's National TV and Radio Council to broadcast to Crimea from an FM transmitter located in the village of Chonhar, and with the U.S. Embassy in Ukraine, which provided a grant to support the broadcast operation.
Kosovo Foreign Fighters Documentary
VOA's Albanian Service produced a 30-minute documentary examining the roots of a phenomenon which saw traditionally peaceful and secular Muslims in Kosovo joining ISIS forces in Iraq and Syria.  It details extremist recruitment, radicalization and militarization efforts, showing how many were tricked by utopian promises to travel abroad to join jihadist fighters.
Kosovo Foreign Fighters includes interviews with former fighters who returned to Kosovo.  One Kosovo Albanian in his twenties, who came back from Syria, says he went to fight for ISIS with the goal of helping civilians there. "When Arab Spring started, I thought about the sufferings I experienced in the war in Kosovo. I thought about how OSCE and others came to Kosovo to fight for us and liberate us and felt that I too should do something similar, go there and help their people."
Leading Muslim clerics in Kosovo told VOA they believe humanitarian factors played a crucial role in motivating many young people to travel to Syria. Faith, according to them, was secondary. The documentary reviewed actions taken by local law enforcement against ISIS fighters who returned home, posing a threat to their societies and to American national security interests, and it featured soundbites from local Muslim imams arguing against jihadist recruitment.  It was widely quoted by the domestic media, which faced challenges in covering this issue in an unbiased way.
VOA Uncovers Corruption in the Balkans
VOA's Albanian and Bosnian Services partnered with the reputable Balkan Investigative Reporting Network (BIRN) to produce original stories focusing on corruption and serve as a model for media behavior in areas affected by ethnic and political polarization and increasing media self-censorship. VOA Albanian and BIRN broke the news about three Albanian judges suspected of receiving a free trip by a businessman involved in a court case, which was subsequently decided in his favor. The January 2017 report  alleged that judges traveled to Spain in 2014 to watch a soccer game between Real Madrid and Barcelona and that the trip was paid for by a local developer. At the time of the trip, a case involving the developer was under review in the Apellate Court of Durrës, an Albanian city where the three judges were serving. All three judges were suspended. The case attracted significant attention in the local media.
RFE/RL's Balkan Service drove audience engagement with its Facebook-based media analysis rubric, entitled "Zasto?" (Why?), which offers insight into the news behind the news. The Service posts a question in the morning and goes deep into that issue throughout the day, trying to give fact-based information to the audience as to why a certain event has occurred or will occur. The rubric garners an average of 2,500 weekly interactions on Facebook.
Armenian elections
Parliamentary elections in Armenia on April 2 brought record-breaking attention to RFE/RL's Armenian Service's online platforms, as the Service aired more than 15 hours of live coverage, with exclusive interviews, analysis by local observers, live reports from polling stations, vox-pops, and international reactions. On April 2, the Service registered more than 3,250,000 video views and nearly 1,670,000 post engagements on Facebook, as well as 700,000 video views on YouTube – with the majority of views on all platforms coming from Armenia. RFE/RL was the only media outlet offering comprehensive coverage of the elections, including documenting irregularities and corruption within the electoral process – which government officials strongly denied were taking place; one RFE/RL Armenian Service reporter was attacked while gathering information at a polling station on alleged vote-buying. Representatives of all three political parties running in the elections, including the Vice President of Armenia's ruling party, told RFE/RL journalists that their prime source of news about the elections was RFE/RL's live TV broadcast, demonstrating the importance of the Armenian Service's coverage.
Asia
Providing voice to the voiceless during press crackdown in Cambodia
In an effort to control the media and silence critical voices, Prime Minister Hun Sen began a national systematic crackdown of independent media throughout 2017. In September, after almost 20 years of bringing the Cambodian people independent, reliable and trustworthy news and information from inside the country, Radio Free Asia was forced to close its Phnom Penh bureau.
RFA continued reporting on the most important and censored issues and events inside the country—and broadcast and publish its programs, reports and content on shortwave radio, social media, and on its website.
Amid a wide-spread and severe crackdown on the media in Cambodia, VOA Khmer has persevered as the only independent source with on-the-ground coverage. VOA Khmer is uniquely positioned to give voice to the voiceless and do critical on-the-ground reporting in rural Cambodia, focusing on enterprising and investigative journalism content that exposes injustices, and undemocratic political and electoral processes. VOA also reinvented its distribution strategy to enhance mobile and digital platforms with daily Facebook broadcasts of its radio shows with live audience engagement. VOA Khmer's robust coverage of the June 2017 local election through its Facebook page, which ranks number one in Cambodia, increased its weekly video views from 1 million to 4.3 million.
Two former Radio Free Asia (RFA) employees, former chief photographer Uon Chhin and former office manager Sothearin Yeang, were detained by Cambodian authorities in November 2017. Both worked in RFA's Phnom Penh bureau, which closed in September when the network was forced to suspend its in-country operations.
The two were held under suspicion of continuing to work for RFA, despite the network's suspension of operations in Cambodia and the fact that their relationships with RFA, contractual or otherwise, discontinued in September. Note: They were released after the 2018 elections, but the charges remain.
China Embeds Cadres in Uyghur Homes During Ramadan
RFA frequently provides the only voice of Uyghurs in northwest China. During Ramadan, Chinese Communist Party officials were embedded in the homes of Uyghurs to prevent them from fasting and praying during this holy month for Muslims. On July 5th, the U.S. Commission on International Religious Freedom Chairman Daniel Mark used information exclusively reported by the RFA Uyghur Service to protest this action in its press release: "The Chinese government has taken unprecedented steps to trample on the religious freedom of Uyghur Muslims particularly during Ramadan. Chinese Communist Party officials were assigned to live in the homes of Uyghur families in Xinjiang to prevent them from fasting and praying. This new level of control is yet another example of the Chinese government's unacceptable repression of Uyghur Muslims. We call on Beijing to abide by its international human rights commitments and cease its harassment of religious communities."
RFA's coverage of Vietnamese government's plan to dump waste into Binh Thuan Sea emboldened environmental activists
The plan to dump 1 million cubic meters of waste into the Binh Thuan Sea was dropped by the Vietnamese Government's Ministry of Natural Resources & Environment in August 10 after strong opposition by local residents, fishermen, aquaculture farmers, as well as media coverage by RFA Vietnamese, whose coverage featured analyses of the negative impacts such waste would have on the sea environment in the region. A July 15th RFA Vietnamese Facebook video about a group of activists who walked from Saigon to Binh Thuan Province to protest the industrial waste dumping reached more than 146,000 people with 70,000 views and generated 1,500 likes, 177 comments and 1,500+ shares.
Middle East
Bringing New Voices to the Arab Media
Many media outlets reflect the religious, political and financial interests of their owners, by contrast Alhurra, Radio Sawa and their digital platforms showcase objective reporting. However, in 2017, MBN created space for more independent and reformist views could be heard. Alhurra.com brought together renown authors, journalists and advocates to be a part of newly created op-ed section on the website, "From A Different Angle." It is a site where independent voices, reformers and liberal thinkers can share their thoughts and ideas freely, without censorship or government interference. Topics covered range from politics and religion to arts and culture. The columns will also appear on Alhurra's Facebook page, providing an opportunity for readers to share their opinions and openly discuss the ideas brought forward by the authors.
With Arab journalists in the MENA region facing limits to press freedom and a censoring political culture, media outlets have often become national enterprises to disseminate ideas, information, and doctrines of a single political party or a religious group to influence the opinion, emotions, and attitudes of the Arab people.  However, Alhurra has captivated audiences starved for objective information by increasing the range of voices heard in the region and airing information beyond that available from heavily censored state-run media or biased pan-Arab television networks. Through critical reports and new perspectives, Alhurra exposed Arab viewers and internet users to independent voices and reformers and liberal thinkers openly criticizing their governments and social and religious misconceptions in their societies.
Raise Your Voice
As part of Raise Your Voice's initiative to expose the brutal viciousness of ISIS, Alhurra produced a new documentary series titled, Exiting ISIS, that provided first-hand accounts from ISIS defectors who revealed the extremist group's entrenched culture of hypocrisy, intimidation, cruelty, and abuse.  The Raise Your Voice website developed a content section specific to Syria and provided an online forum for Syrian activists and bloggers to share their ideas.  Articles and exclusive videos have highlighted social, political, humanitarian and cultural topics of central concern to Syrians in Syria and the diaspora.  Raise Your Voice also created a series of videos for its on-line platforms under the title Every Day's Story. The episodes were filmed in different parts of the MENA region and addressed topics related to women's rights, victims of terrorism, unemployment, refugees and the pain and suffering of women who were forced into marriages with ISIS members.
Cuba
As the similarities of Cuba and Venezuela continue to grow, OCB launched a new multi-platform one-hour program, "En Debate", featuring Martí journalists Alejandro Marcano and Karen Caballero. A one-hour program that presents Cubans with contrasting points of view relevant to Cuba and Venezuela. Coverage in Venezuela was the main information challenge during July-August. Not only did the Martis follow up on the mass protests on the streets against Nicolás Maduro's regime, but we also addressed the two voting processes, convened respectively by the opposition, on July 16, and by "oficialismo" (new Constituent Assembly) July 30th.
Afghanistan and Pakistan
On May 10, RFE/RL's Radio Azadi profiled several threatened female journalists, to ask about their personal experiences in Afghanistan's challenging media environment, where more than 100 women journalists have had to abandon journalism as a result of violence, threats, and harassment.
Urdu Launches New TV News Program "View 360"
VOA Urdu launched a new flagship news and current affairs program in Pakistan, providing an objective and straightforward alternative in a challenging media environment that is sometimes marred by sensationalism and self-censorship.  The new show, View 360, is broadcast five days a week during prime time on the respected national channel AAJ TV.  The 30-minute, fast-paced program provides unbiased news and views on U.S.-Pakistani relations, education, science, health, Pakistani diaspora, and entertainment. This show is significant in that although the Pakistani media market appears to be vibrant and free, some subjects for local media are off limits, such as talking about the military or intelligence agencies, or covering issues related to blasphemy laws and religious minorities. VOA is able to fill this void, covering all issues of importance in a comprehensive and objective manner.
Africa
VOA Ensures Case of Jailed Ethiopian Journalist Remains in the Spotlight
VOA led international coverage of detained Ethiopian journalist Eskinder Nega on Amharic, Tigrigna, and in Afan Oromo. VOA kept the case of the International Press Institute World Press Freedom Hero in the headlines as Ethiopia's government demanded that he ask to be pardoned for being a member of a banned political organization.
"He cannot ask to be pardoned for something he did not do," his wife Serkalem Facil told VOA after a jailhouse meeting. "Being a journalist locked-up, I think what you fear the most is to be forgotten," says Swedish journalist Martin Schibbye, who was held in the same Ethiopian prison. "As long as the world doesn't accept your sentence, as long as people are protesting and highlighting you, you feel that you are there for a good cause and you are at the forefront in a struggle that has become global, and that is more important than food and water for prisoners of conscience. Eskinder's only crime is courage."
VOA "has become an increasingly important source of information for many Ethiopians, but the government has, at times, obstructed its broadcasts as well," Human Rights Watch researcher Felix Horne told Congress. Nega was released in 2018 after refusing to request a pardon.
Maghreb Voices
In May 2017, MBN launched the Maghreb Voices website to inform and engage with the people across the Maghreb region where there is tremendous need for an uncensored interactive space for expression.  The platform provides Maghreb citizens with an unmatched opportunity to participate openly and freely in important discussions on topics, such as countering ISIS, women's rights, human rights, corruption, human trafficking, slavery, minorities' rights and illegal immigration.  The website also has sections on ISIS defectors' stories, Q and As about the U.S., and learning English.