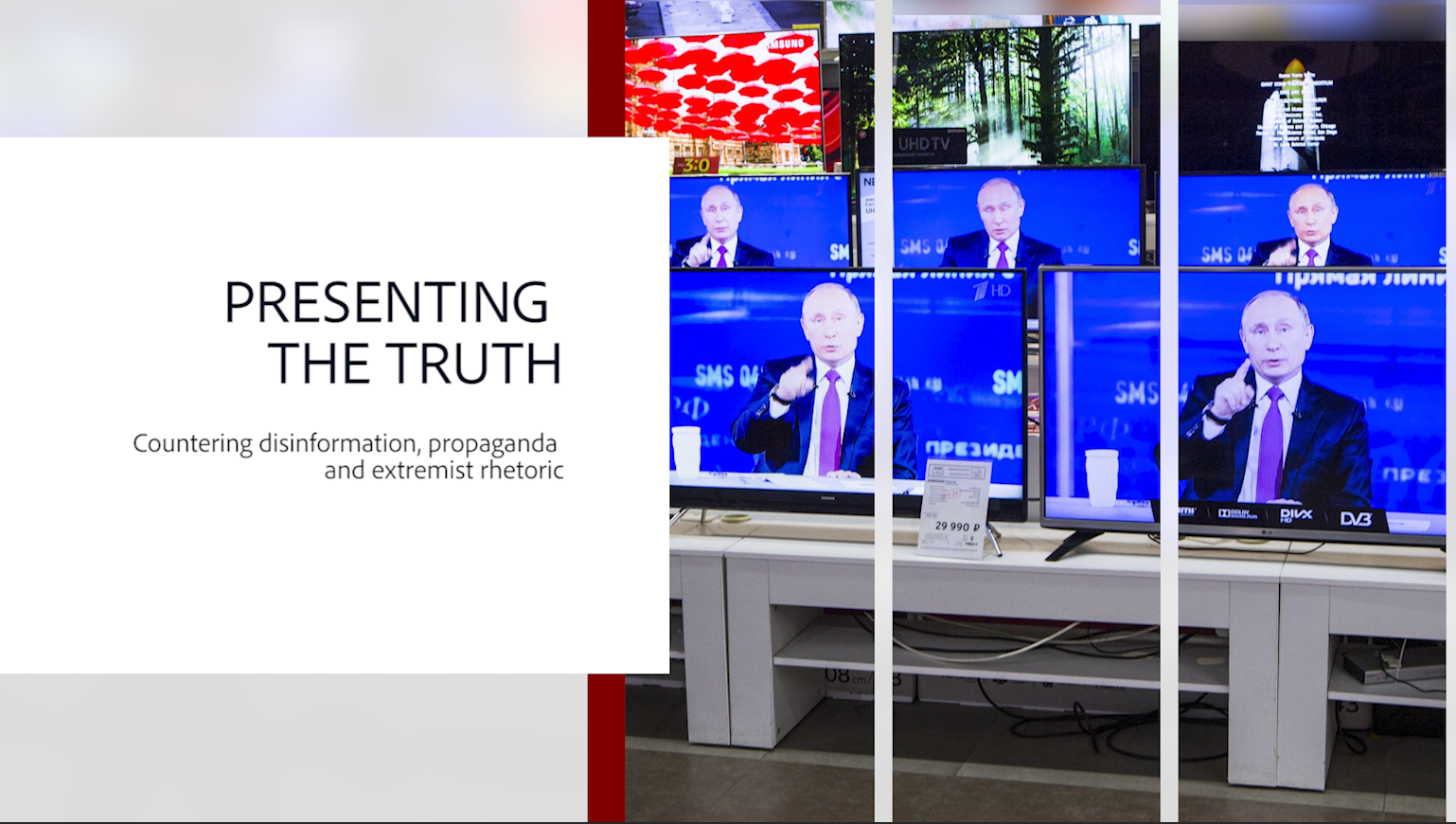 Countering disinformation, propaganda and extremist rhetoric
Information today flows at a dizzying pace, and audiences around the world are bombarded with lies, half-truths and rhetoric meant to confuse and undermine institutions. This disinformation can result in polarization, contention and in some cases extremist violence.
For those living in disinformation-saturated areas, access to credible reporting is more important than ever.
BBG's global media networks provide accurate, reliable and fact-based journalism in countries where the truth is hard to come by. In addition to a proliferation of fact-checking websites and lie-busting programs, BBG networks are heralded for their credibility and journalistic integrity. In Russian, Korean, Farsi, Arabic and more, audiences around the world know they can trust the networks of the BBG.
click here to play video
Fact checking Kremlin disinformation
Kremlin-sponsored disinformation continues to be used to distort the truth, manipulate public opinion and divide societies in the former Soviet space and beyond. The BBG has invested resources into fact-checking, new targeted websites, and promoting media literacy to provide audiences with credible reporting and reduce the impact of false news.
Polygraph and Faktograf
BBG networks provide valuable fact-checking resources in English and Russian on Russia's domestic policy, social issues and other pressing topics frequently misrepresented in the public Russian-language sphere.

Polygraph.info, run by Voice of America, and Factograph.info, run by RFE/RL, address what has become a steady stream of misinformation relating to Russian relations with the United States, Europe, and former Soviet Republics. Journalists fact-check government and media statements for accuracy and provide context.  Many of these stories have been republished by other fact-checking sites.
VOA's Afghan service debunked a story on the Russian government-run Sputnik news service, which claimed that radiation from a U.S. MOAB bomb dropped on ISIS caves in eastern Afghanistan had caused diseases in the area. An Afghan service stringer visited the bombed site and conducted interviews with local people, officials, and health-workers – all of whom flatly rejected the Sputnik report. VOA's Polygraph.info also picked up the Afghan story.
America Live Coverage Desk Project
Millions of news consumers across Eurasia tuned in to VOA Russian for live, unfiltered coverage of events in America, primarily focusing on U.S.-Russian affairs and Russia's malicious influence in the region. Through its digital platforms and the Current Time Network, the "America Live Coverage Desk Project" engaged highly active audiences with real-time analysis by U.S.-based experts and simultaneously translated presidential addresses, major policy pronouncements and speeches, debates, and congressional hearings. On social media platforms, more than 200,000 people watched VOA Russian's comprehensive coverage of President Trump's inauguration in January 2017, and more than 100,000 engaged with the live program featuring his first address to the Congress.
At a time when Russian state-sponsored media are filled with anti-U.S. propaganda, the content produced by the Coverage Desk gave audiences an accurate portrayal of U.S. policymakers and events and provided thoughtful analysis and discussion.  The real-time engagement of so many viewers is a testament to the interest and need for such programming.
Media Literacy as an Antidote to Propaganda
Current Time's Smotri v Oba (See Both Sides) program, produced by RFE/RL, juxtaposes footage from Western and Russian news programming to showcase how a single news story can be told in a variety of ways. The show compares reporting of key news stories from country to country, and channel to channel. In deconstructing fake news and disinformation, the program teaches viewers how to identify mistakes and manipulations, thus working to improve media literacy across the region. In one episode from June 2017, the program focused on Russia's efforts to push disinformation about the European Union into Moldova, and exposed the anti-Western viewpoints blanketing Russian media coverage of the country.
What's Alaska Really Like vs. What the Russian Government Says
VOA Russian produced a 10-part video series marking the 150th anniversary of the Alaska Purchase, when Russia sold Alaska to the United States. The series provided important insight into present-day life in Alaska – its economy, resources, and people – and offered a counterpoint to false narratives in Kremlin-sponsored media that Alaska was abandoned by U.S. authorities and that life in the area would be better had Alaska remained part of Russia. The Service produced stories on the four-decade-old Alaska pipeline; the economy of Homer, a town that proudly calls itself the "world capital of halibut fishing;" and about a group known as Russian Old Believers, who live in the village of Nikolaevsk on Kenai Peninsula. The series featured unique, original interviews and exquisite drone footage. Aired as part of the Current Time America TV program, the extended, 10-minute episodes were also digitally available via VOA Russian web and social media channels. They garnered more than 300,000 views on Facebook in just a few days. An English-language version of the series was also produced for the house.
Russian Orphans in the United States
VOA Russian produced a series focusing on the life of Russian orphans who were adopted by American families in the 1990s. The series launched around the fifth anniversary of the infamous Dima Yakovlev law, which banned American adoptions of Russian orphans. It featured interviews with adopted children who VOA's Russian Service first filmed 15 years ago. They candidly spoke about the challenges they had to overcome, their achievements and hopes – providing a window into what life is really like in America, as opposed to a highly-negative Kremlin narrative. The series garnered more than 1 million video views on Facebook, had thousands of shares and reactions, and stirred lively debate on Facebook about Russian children adopted by Americans.
–
–
RFE/RL's Central Asia News wire, launched in 2015, continues to expand to ensure that resource-strapped local media outlets, long reliant on Russian media, have ready access to accurate, professionally reported news, free of charge, in four local languages and Russian, to interested media outlets in Kazakhstan, Kyrgyzstan, Tajikistan, and Uzbekistan. The News Service has more than 1,200 subscribers, and its content is regularly published by 270 media outlets. It averages 1,100 citations weekly, and its stories are republished or re-posted on average over 5,500 times each month, including by nationwide broadcasters with audiences in the millions.
Current Time Asia correspondent Zhibek Bagalieva used her reporting to reveal a blatant example of "fake news" by Russian state media. The Bishkek-based reporter looked into a March 24 television report by Russia's 1st Channel, which claimed that an ethnic Russian man had been held as a slave in a small Kyrgyz village for more than 16 years. The story was almost entirely fabricated, and the piece — which was widely shared by Central Asian news sites — showed how Russian media creates fake news aimed at stirring xenophobic fears about Russia's border regions.
North Korea
Voice of America and Radio Free Asia collaborated to counter North Korean government propaganda by showing North Koreans the reality of life outside the DPRK. VOA's Palisades program tells America's story by profiling Korean-Americans living in a community in New Jersey, while RFA's programs Bravo My Life and My New Life depict the lives of North Korean defectors.
In response to the growing bellicosity of North Korea towards the United States, VOA's Korean Service launched an ambitious new initiative to reach the North Korean population through video programming. With a rich array of news shows and cultural features, the new broadcasts present an authoritative analysis of U.S. policies and an authentic look at America and its diversity through lives of the Korean-American community.
VOA's new documentary series focuses on Korean-Americans living in Palisades Park, New Jersey  is designed to inform North Korean elites how Korean immigrants thrive in America, maintain their heritage and deal with challenges of daily life.  Published on YouTube and VOA Korean's website, the series is intended for North Korean diplomats and workers abroad who have access to the internet.
click here to play video
Countering extremist rhetoric
In 2017 some disinformation came from non-state actors such as ISIS, Boko Haram and al-Shabab. These extremist narratives are uniquely dangerous, resulting in publics that are unable to access true information, and who are scared to try. BBG's fact-based reporting provided an alternative to the biased narratives and disinformation released by extremist groups.
Worldwide
VOA's Extremism Watch Desk expanded coverage from South and Central Asia to other parts of the world in 2017. Be it Boko Haram in Nigeria, al-Shabab in Somalia, Taliban in the Af-Pak region, or Islamic State in the Middle East, the Watch Desk extensively covered developments related to terrorism and extremism, producing more than 500 stories in 2017. This fact-based reporting provided an alternative to the biased narratives and disinformation released by extremist groups.
Afghanistan and Pakistan
RFE/RL's Dari- and Pashto-language Radio Azadi, which broadcasts to Afghanistan, and Pashto-language Radio Mashaal, which targets Pakistan's Khyber-Pakhtunkhwa Province and the Federally Administered Tribal Areas, provide audiences comprehensive news coverage and analysis of conflict in the area, and the devastation wrought by extremist forces.
As it has since it resumed broadcasting in Afghanistan in early 2002, Radio Azadi leverages its reputation as one of Afghanistan's most popular and trusted media outlets to make accurate information widely available on continuing hostilities involving Islamic extremist groups, domestic and regional politics, corruption, warlordism, gender issues, human rights, and other topics that are under-reported or misreported by local media.
Radio Azadi reported on the tensions between Afghanistan's hardline Taliban insurgents and fighters loyal to the ultra-radical Islamic State (ISIS) militant group (English version). An Afghan Service reporter in Nangarhar province's Khogyani district filed audio and video reports about the dire conditions faced by the 8,000-plus families displaced by violence between ISIS and Taliban militants, which have grabbed the attention of NGOs and government officials.
Azadi also focuses on the global response to extremism in Afghanistan — including reporting on the new U.S. strategy that has U.S. and European NATO allies are seeking to build up the capabilities of Afghan special forces units, which conduct about three quarters of combat missions against the Taliban and associated militant groups in Afghanistan. Radio Azadi looked into the life and training of a long-time Afghan special forces soldier, and followed a special forces unit during a night ride operation against a Taliban hideout in a rural village in Eastern Kunar province,
All Mashaal reporting serves a CVE function, as the service reports on topics that local domestic press will not cover out of fear of violent retribution. These fears are not unfounded, as in 2017, no fewer than four Radio Mashaal journalists have been threatened, stalked, kidnapped for up to 72 hours, shot at, or otherwise harassed, both by the Taliban and by Pakistani intelligence agency officials.
For example, in May 2017, a Radio Mashaal investigation revealed that a well-known religious leader in Pakistan's Balochistan province was openly soliciting charitable donations for the Afghan Taliban–seemingly at odds with Pakistan's counterterrorism strategy that calls for "choking financing for terrorism and terrorist organizations." Mashaal published the story on its website; within hours, it was a trending topic across social media and sparked discussion across multiple time zones. Leading Pakistani television stations Geo TV and Dawn News cited Radio Mashaal's coverage of the story during their respective prime time talk shows.
In addition to its direct challenges to Taliban propaganda, Radio Mashaal leads news coverage in the region and a platform for other moderate voices by reporting controversial, and even dangerous, stories first. For example, Mashaal made it easier for domestic media in Pakistan to report the case of Mashal Khan, a university student killed by a mob in northern Pakistan in April 2017 over alleged blasphemy, by being the first media outlet to speak with his father shortly after Khan's funeral. Pakistani media are often reluctant to cover such stories, fearing reactions from extremists. But the impact of Mashaal's interview on social networks–where it received more than 500,000 views–and coverage by other international media eventually provided enough cover for local media to cover the story as well. Mashaal also sought to expose the negative impact of such religious extremism on Pakistani society by publishing reaction from Khan's mother to her son's death and from Nobel Prize winner Malala Yousazfai, in addition to video reports on anti-extremism protests in the cities of Bannu, Quetta, Karachi and Peshawar.
Mashaal also has specific rubrics dedicated to non-violent conflict resolution, including Towards Peace, a twice-weekly radio show that teaches peaceful means of problem solving. Several organizations, including a school in Afghanistan's Kandahar province, have requested to use Mashaal's programming.
Many of RFE/RL's language services provide fact-based coverage of ISIS and the Taliban in the vernacular languages of RFE/RL's audiences. For example, as part of its Behind The Scenes program, Current Time reporters visited such hotspots as post-coup attempt Turkey, the closed Azerbaijani city of Nardaran, and Turkish and Syrian border towns serving as bases for the opposition to Syrian leader Bashar al-Assad. The program also visited cities throughout Afghanistan to examine the violence that continues to engulf the country four decades after the war began. The result is a rare look inside Afghanistan, and a vivid and disturbing portrait of a country where peace remains a distant prospect.
Iraq
Alhurra Launches Acclaimed Series Showing the Reality of ISIS
In 2017, Alhurra launched Exiting ISIS, a documentary series in which ISIS defectors provide first-hand accounts of what life was like as a member of the terrorist organization and why they left. The series revealed the extremist group's entrenched culture of deception, intimidation, cruelty, drugs, and sexual abuse.
click here to play video
Through rare interviews, the 13-part series told the stories of former ISIS members who provide unique insights into life in the Islamic State.  They showed ISIS's hypocrisy as it captivates its followers with the promise of a global Muslim caliphate.  Exiting ISIS documented why ISIS militants joined the armed group and ultimately decided to escape.  Defectors provided revelatory details about how foreign fighters were recruited; how they traveled to Iraq and Syria to join the fight; how women were forced to torture other woman who have transgressed by singing, listening to music, dressing with insufficient modesty, or leaving their homes without a male escort.
In each episode, Exiting ISIS provided insightful testimonials of deserters denouncing ISIS's lies, its false promises, its cult of violence and death, and its widespread corruption and inequality. They believe that, in doing so, they will reveal the truth about ISIS and discourage future potential recruits from joining. It communicated the fear and terror felt by those trapped under ISIS rule.
Providing accurate coverage of the liberation of Mosul
As news of the liberation of Mosul from ISIS ramped up, Alhurra-Iraq's daily newscast Iraq Today extended its broadcast to two hours to provide viewers with the latest information in this important fight. The network also had extensive coverage of Iraqi Prime Minister al-Abadi's arrival and tour around Mosul, as well as live coverage of his victory speech. American and Iraqi military and political experts gathered together on Alhurra's flagship talk show Free Hour following the liberation of Mosul. Alhurra's Al Youm dedicated an episode to the liberation of Mosul, and included topics such as:
– Interviews with American and Iraqi military experts about the end of the operation in Mosul.

– A look at the U.S. strategy in Iraq following the liberation of Mosul.

– The story of a 13-year-old girl, who went from slavery under ISIS to freedom and how she survived.

– An interview with the head of the Supreme Council for Women in the Kurdistan Regional Government to discuss life after ISIS.

– How people around the world reacted to the freeing of Mosul, including many expressions of solidarity through social media.
The network also covered celebrations in Baghdad to mark the victory in Mosul and defeat of ISIS; displaced people in the Talafar District calling on the liberation of their city following the fall of ISIS in Mosul; and a profile of families in the Biharka Camp packing up to return to Mosul after hearing reports of liberation of the city. Alhurra also reported on the religious Shiite leaders in Najaf Province who blessed the liberation of Mosul and called on special attention to those that died and were wounded in the battle. Another report look at what services and camps are doing to help children that have been orphaned by ISIS.
Radio Sawa's daily call-in show, What's Your Opinion, asked what the liberation of Mosul meant for the reconstruction of the city. A caller from Mosul suggested the government concentrate on providing food and other basic services to the city before dealing with reconstruction of buildings. A second episode asked listeners what they think of the liberation of Mosul and what about the other areas still held by ISIS. A caller from Hawija said they were happy for those in Mosul, but hoped that Hawija will be next. He went on to say that ISIS has been arresting many people in Hawija. A caller from Baghdad said that the eradication of ISIS in Mosul did not mean residents were safer in Iraq, rather there are still many Iraqis that sympathize with ISIS ideology. Sawa Magazine interviewed several military experts about the final operations that lead to the freeing of Mosul.
The Raise Your Voice website and social media properties showed aerial images of final stages of the recapture of Mosul. They also reported on the Saladin province's celebration and how the people of Amara are commemorating the liberation of Mosul, as well as a look at how displaced people received news of victory over ISIS. Raise Your Voice also highlighted an initiative by humanitarian organization Ronahi to provide food assistance to people of western Mosul.

Eurasia
VOA Bosnian Provides Unprecedented Look at Areas of Radical Recruitment
VOA Bosnian broke ground with a digital documentary series on challenges posed by radicalization in the Bosnian Muslim community and the Salafi movement.  This series was viewed more than 1.6 million times on the VOA Service's Facebook page.  The documentary also provided context of Salafi Muslims' presence in Bosnia and offered unique insight into their lives, beliefs, and their fundamentalist doctrine that was critical for the extremist recruitment of Muslim youth in the region.  VOA's journalist was given unprecedented access to the Salafi community due to the trust that VOA reporting would be fair and accurate.
RFE/RL Engages Digital Audiences in Responsible Dialogue About Risks of Extremism
In the Western Balkans, a region beset with political, security and economic challenges, RFE/RL's Balkan Service engages young audiences in conversations regarding the harmful effects of radicalization within their societies. In late-2017, RFE/RL created a Balkans-oriented digital media team, as well as a campaign entitled Not in My Name for Bosnia and Kosovo that directly engages social media audiences in responsible dialogue about issues surrounding extremism and risks in their countries. These projects seek to explore the root causes of extremism and by extension to dissuade those vulnerable to extremist ideologies. In Bosnia, a piece on a theater production "Fear Allah," a call to oppose all injustices, whatever they may be, drew attention, as did a history of fatwas against suicide attacks based on RFE/RL research. In Kosovo, a piece on a football match between priests and imams was very popular, as was a piece on the misuse of children for religious purposes, and an examination of the terror attacks in 2017.
Africa
A Voice of America documentary delivered an unprecedented examination of the terror group Boko Haram and the people who are fighting back. Mostly known in the West for its abduction and continued captivity of young school girls, the group has terrorized and killed Nigerians for more than a decade.
Narrated by award-winning British-Nigerian actor David Oyelowo, best known for his role as Martin Luther King, Jr. in the 2014 film Selma, Boko Haram: Journey from Evil goes beneath the surface to reveal the inner workings of the group and the Nigerian government's response. Drawing on 18 hours of secret Boko Haram video obtained by Voice of America, the documentary reveals a hidden world of torture and executions. The documentary takes the story beyond the terror, profiling Nigerian citizens who are resisting the terrorists and working to bring about change.
click here to play video
Boko Haram Fighter Credits VOA with Decision to Quit
A Former Boko Haram fighter credits listening to VOA as a major factor in his decision to quit the group, saying the radio programs helped him to realize that what Boko Haram was saying and doing was wrong. Bana Umar says international radio helped convince him to desert the terrorist group. "I listened to these radio stations frequently to the extent that when I laid down to sleep I would be thinking of what I heard. I realized that all our activities were evil," he told VOA Hausa at a military deradicalization camp in Maiduguri. "We killed. We stole. We dispossessed people of their properties in the name of religion. But what we are doing is not religion. Finally I got fed up with the group."
VOA Shows the Real Impact of Extremist Recruiting in Somalia
VOA Somali produced a series of special reports about rehabilitating former al-Shabaab militants, shining a light on how extremist rhetoric on social media contributed to radicalizing young people. Somali lawmaker Abdishakur Yaqub Ibrahim told VOA that al-Shabaab leaders "are saying they will educate the children, but they are going to turn them into bombs."
Somalia's top religious leaders denounced a social media campaign by extremists from Egypt and Libya. "It's a responsibility to our religion and to our people to tell them about this new group's tenets which is to apostatize people," Sheikh Bashir Ahmed Salad told VOA Somali. He described the efforts as an aggression against our religion and the Somali people. The Director of a reintegration center, Abdirashid Ibrahim Mohamed, said "Normally, when these youngsters defect from al-Shabaab, they already know that what they were involved in is wrong, and they come to us to save themselves."
Redressing misinformation
End of "Wet Foot / Dry Foot" Policy in Cuba
On January 13, 2017 all Office of Cuba Broadcasting services provided coverage of the breaking news related to the changes on the "Wet Foot/Dry Foot" policy of the Cuban Adjustment Act of 1966. The policy had allowed anyone who fled Cuba and entered the United States by land or sea to pursue residency a year later. Newscasts were dedicated to the policy change announcement and included analysis from lawyers as well as reaction from Cubans and Congressional leaders.
The official declaration on the position of the United States Government on illegal immigration was placed in hot rotation during promotional breaks in programming. Original Marti content was shared with VOA Central News and the Voice of America Latin America Division. A VOA LatAm reporter in Mexico worked with the Martis to cover the last Cuban to enter the U.S. under the "Wet Foot/Dry Foot" policy. OCB also provided extensive coverage of Cubans stuck in transit in Latin America and in airports in the U.S. In August, OCB had special coverage on Cubans stranded in Panama with final order of deportation from the Panamanian government. Marti reporters traveled to Panama and interviewed Cuban immigrants, government officials and representatives of the Catholic Church. Video material was used across all platforms as well as in local Miami media, such as Telemundo 51 and Channel 23-Univision.
VOA Spanish Influences Venezuela Crisis Coverage
VOA Spanish provided much-needed accurate and timely news of the rapidly deteriorating situation in Venezuela, helping to shape local and regional coverage. As protests multiplied, VOA expanded on the ground coverage, airtime, and staff devoted to the story. VOA worked with 99 media partners in Venezuela, providing hundreds of television and radio packages as well as extensive social media coverage. Content included information about political repression, economic turmoil and growing humanitarian crises, as well as how events were being received in the United States, including in Congress, and the Venezuelan diaspora. VOA also provided coverage for hundreds of affiliate stations throughout the rest of Latin America, where audiences have a stake in following the Venezuelan story.
click here to play video
VOA facilitated coordination among local reporters and media and put a spotlight on the despair and hopes of hundreds of thousands of Venezuelans who fled the country. On a bridge linking Venezuela and Colombia, VOA's Celia Mendoza interviewed a young man who barely escaped with his life after being shot at by Venezuelan guards. Venezuela-Colombia Border Mendoza reported from Curaçao on the risks to Venezuelans crossing the dangerous waters to find refuge on the island.
In a series of Facebook Live reports, Mendoza spoke with a victim of human traffickers. The woman said she thought she was being hired as a waitress but instead was forced into prostitution.  Mendoza spoke to another woman who gave birth in Cucuta following a harrowing night leaving Tachira.  The two stories attracted more than 200,000 views.
Somali Town Hall on Measles and Vaccination Myths
VOA Somali held a town hall meeting to provide factual information about vaccines after a measles outbreak spread through Minnesota's ethnic Somali community. The Minneapolis forum "Vaccine and Autism: Myths and Facts" brought together community leaders and four Minnesota health officials, two of whom have children with autism. Health experts addressed concerns that vaccinations cause autism. . Broadcast live on radio and television inside Somalia, the meeting was also picked up by the Star Tribune.
"This is long overdue," Minneapolis resident Abdirahman Sheikh Mursal said at the meeting's conclusion. "We have not seen anything as educational as VOA's town hall meeting. You really raised the bar of our awareness." This interactive town hall informed, as well as connected, the Somali diaspora with those still in Somalia, and raised awareness about myths associated with vaccines.
Telling America's Story
For many audiences around the world, access to the truth about the United States and the daily lives of Americans can be hard to find. Often stories about the U.S. are presented through a political filter or are censored out completely.
Voice of America and the Middle East Broadcasting Networks provide access to information about what is happening in American culture, politics and discourse, to audiences around the world.
Showing democracy in action
VOA Live, Simultaneous Translation of President Trump's First Address to Congress
All VOA language services covered President Trump's first address to Congress and the Democratic response.  Many services provided simultaneous translation, giving audiences direct and unfiltered access to the speeches, along with comprehensive analysis.  The programming attracted strong audience engagement on social media.   
Among the coverage, VOA Russian produced a special edition of Current Time America, going live with a one hour-45-minute program. The event was streamed on Russian's digital platforms. It was viewed more than 100,000 times on Facebook and attracted more than 1,000 comments.  VOA Persian aired a more than two hour live special that included correspondent reports from the White House and the Capitol Rotunda.  Guests included Hossein Khorram, co-chair of the American Mideast Coalition for Trump, and Professor Shirin Hunter of Georgetown University.  The full video of the President's address, along with short video excerpts on Facebook, Instagram, and Telegram, garnered over 386,000 views.   
VOA Ukrainian was the only media outlet in Ukraine to carry the speech live with simultaneous translation on digital platforms. VOA also filed for leading TV channels in Ukraine.  The President's address dominated morning newscasts in Albania, Serbia, Montenegro, and Georgia, where more than 35 affiliates relied on VOA for coverage.   
VOA's Deewa service provided live streaming of the speech with simultaneous translation on Facebook.  Deewa interviewed prominent members of Congress offering reaction, including Senator Bob Corker (R-TN), Senator Tim Kaine (D-VA), and U.S. Representative Ted Lieu (D-CA).  VOA Afghan provided live coverage from the National Mall and discussed the speech and the democratic response with one of its top affiliates, Tolo TV, in Kabul.   
More than a dozen stations across Africa picked up English coverage while more than 30 television and radio stations in Latin America carried VOA Spanish's simultaneous translation and linked to VOA Spanish Facebook Live.  VOA Indonesian provided live reports for TV affiliates, including CNN Indonesia, and for 20 radio affiliates. VOA Khmer aired the President's speech live via Facebook, simultaneously translating important quotes.
VOA Persian became the primary destination for information about U.S. Presidential remarks, Congressional hearings, and foreign policy debates by providing simultaneous translation and live broadcasts of significant events throughout the year.  As the go-to source for access to U.S. officials' speeches, news conferences, and other American perspectives, VOA attracted unprecedented levels of engagement with Iranians.   
Starting with President Trump's inauguration, VOA produced over 60 live, breaking news, and long-format broadcasts.  Simultaneous translation in Farsi was provided on the service's 24/7 satellite TV channel and on digital platforms. Full video and excerpts from President Trump's address on his Iran strategy were viewed more than 1.2 million times on social media platforms alone.
Video from a National Security Summit with remarks by CIA Director Mike Pompeo and White House National Security Advisor H.R. McMaster, were viewed 680,000 times on social media. National Security Summit – Persian  Live coverage of a 4-hour conference on Countering Violent Extremism also featured simultaneous translation of full remarks.  Among the speakers were Senator Tom Cotton (R-AK), House Foreign Affairs Committee Chairman Ed Royce (R-CA), former Chief White House Strategist Steve Bannon, former Defense Secretary and CIA Director Leon Panetta and former CIA Director General David Petraeus. Video from this conference was viewed more than 250,000 times on social platforms.
The service created a special web page with information about the Iranian regime that is strictly off-limits in Iran.  The service translated documents and video excerpts related to Congressional efforts to pass the "Iranian Leadership Asset Transparency Act."  This legislation aimed to expose secret assets accumulated by the top 20 figures in the Iranian regime including Iran's Supreme Leader Ayatollah Khamenei and Iranian President Hassan Rouhani.
Off the Highway  – Voters in Middle America
This series, which won the bronze medal at the New York Film Festival,  was launched by the News Center after the election of President Donald Trump to help illustrate the diversity in the United States by exploring small towns and rural areas and talking to the people who live there.  VOA reporters traveled to a stretch of rural counties along the upper Mississippi River in Minnesota, Wisconsin, Illinois, and Iowa.  They explained the views of voters in counties that turned from supporting the Democratic Party candidate Barack Obama in previous elections to the Republican Donald Trump in 2016.  The series combines beautiful footage with a compassionate listening style.  The VOA team spoke with many along the way who felt they were among the "forgotten men and women" that Trump promised to champion.   
The series is important in that it provides a window into differences in American culture and lifestyles, something that is unique about the United States, and is sometimes difficult for those in other countries to understand.  It is also timely amid anti-U.S. propaganda, including Russian disinformation, which tries to create an image of a dysfunctional America.   The series was versioned into 12 languages and garnered tens of thousands of engagements on social media.  
Daily life in the U.S.
VOA Mandarin College Road Trip Scores Big
VOA's Mandarin Service gave Chinese students a unique window into life at U.S. colleges, through the stories and experiences told by Chinese students themselves.  Hitting the road to visit 31 different campuses across the country, VOA journalists reported on higher education opportunities and explained an important part of life in the United States in programming that was very appealing to younger Chinese audiences.
Study in the United States is the goal of many Chinese students and their parents.  At present, more than 350,000 Chinese students are enrolled in U.S. universities and colleges, comprising about 33 percent of the foreign student population.
VOA visited many different types of college environments for this series, from the most prestigious private schools to research institutions to public universities, from campuses with huge student bodies to those with only small student populations and everything in between.
Chinese students currently on U.S. campuses offered their unique perspective on their experiences in Facebook Live sessions that attracted more than 270,000 viewers on the Mandarin Service's website and social media platforms.
VOA's journalists also conducted one-on-one interviews with U.S. academic admission officers who provided insights on how to apply from abroad.  These interviews generated tens of thousands of views on Facebook and Youtube. Television and radio packages also addressed challenging issues for the students such as adjusting to life in America, communicating with family and friends back home, and academic and security concerns.
Diaspora Coverage Initiative
VOA made covering diaspora communities in the United States a priority in 2017.  The diaspora members provide a unique look at life in America in a way that easily relates to audiences in their home countries.  Among the stories that generated significant interaction online:   
– VOA Russian produced a 26-episode series, Our American Story, built around Russian immigrants.  The appeal of free-market capitalism and the role of citizens in a democracy offered a counterpoint to everyday life in Russia.
– Beyond the Unicorn is a documentary featuring African entrepreneurs in Silicon Valley. The film profiles individuals from across Africa and explains the financial, technical, and cultural challenges they faced.
– VOA Vietnamese profiled the first Vietnamese-American elected as a mayor in the United States. Tri Ta was elected in Westminster, California, a town that includes a section known as "Little Saigon."  The video profiling Tri Ta,garnered 139,000 views on Facebook.  Among the comments were "Thank you VOA for such a story … We are proud of him…" and "We the Vietnamese in Vietnam need leaders like him."
– The Ukrainian service attracted more than 7 million video views of stories showcasing the lives of the Ukrainian diaspora.  One of the most popular was a report about a Ukrainian restaurant in New Yorkwith more than 660,000 video views, and 26,000 reactions, comments, and shares.
– The Horn of Africa's OromiyaaXinnoo is a collection of interviews with entrepreneurs, community leaders, and youth in Minnesota.  Tigist Geme traveled to the Twin Cities, home to the largest Oromo community in the United States.  Among those profiled were a dishwasher turned millionaire, the founders of an adult daycare for African elders and an Oromo girl growing up between two cultures. 
– The Turkish Service launched a web page called the 'American Dream,' populated with Turkish-American immigrant stories.  Profiles included a female economy professor in New York, a photographer in Maryland, a DNA researcher who won the Nobel Prize in Chemistry, restaurant owners in El Paso, TX, a souvenir store owner in Charleston, NC, an entrepreneur in Silicon Valley and a financial advisor in San Antonio, TX.